Coin Machine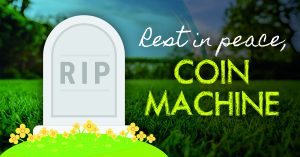 RIP Coin Machine
Our coin machine has bit the dust – cause of death, a giant bolt. While we are mourning the death of our loyal coin counter and seeking a replacement, we have two options for members seeking redemption of loose coins:
Stop by the branch for FREE paper rolls to roll your coins.
Take your coins to any coin-counting machine, such as CoinStar, and we will reimburse you the fee* up to 5% from any machine that would charge. Just bring in the receipt showing the fee you paid within 30 days of the transaction.
Thank you for your understanding.