Bucks for Buckeyes
A prize-linked savings program designed to help members save!
Save money to win money!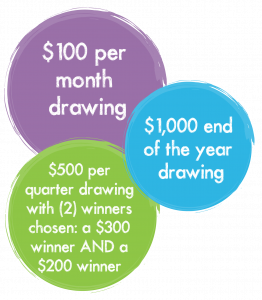 Only $5 to open an account!
All prize drawings exclusively for EducaCU members
Qualifying entry = For every $20 deposit, an entry is earned up to 5 entries per month and with auto-transfer or payroll deduction it's easy!
Program is designed to help you save – early withdraw fees apply
Offers a tiered dividend rate program – earn dividends as you save money to win money!
Over $4,000 to be awarded in cash prizes in 2023!
—
Already a member? Want to start 'Saving and Winning'?  Click here to be redirected to a site allowing you to electronically sign account opening forms!  Please note: you will be redirected to another website that enables electronic signature. To proceed to the website, there will be a pop-up window that you'll need to select 'OK' to proceed. 
*Interested in doing a minor account? Due to some additional steps that need to be completed, please fill out the form below and a member of our staff will contact you to get everything set-up! 
Not a member yet but want to get more information about how to join so you can start saving and winning? Fill in the form below and a representative will contact you! Think the employees in your school location may be interested, let us come to you.
*Membership eligibility required. Must a resident of a state that allows prize-linked savings programs. Opening deposit minimum of $5 required and unlimited deposits allowed. Two early withdrawals allowed from your "Bucks for Buckeyes" account in the 12-month period with a $10 early withdrawal fee applied to each. After two withdraws, the account must be closed. Limited to one consumer account per person (or joint membership account, with primary account holder receiving entry) per participating credit union. Entries roll from month to month. For full details and disclosures click here.